Search the available condos and townhouses for sale in Briarwood, Freehold Township. If you're either a buyer or a seller, call us. We've sold hundreds of homes in Freehold and we can help you too
About Briarwood
Freehold Township
During 1984, 96 condos were built in Freehold Township, and the community was named Briarwood. In Briarwood you'll find 12 buildings, ea
ch with 8 condos, 4 upper units and 4 lower units. In fact, all are end units, and each has 1308 sq ft*. Additionally, they all have the same floor plan, with 2 bedrooms and 1.5 bathrooms. Further, each has a kitchen, utility/laundry room, living room/dining room, a sun room/den with an open floor plan. In addition, each bedroom has a walk-in storage closets as well as the sun room.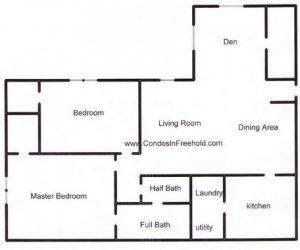 Briarwood has a homeowners association, therefore a monthly HOA fee. Correspondingly, the HOA is responsible for common area maintenance, lawn care, snow removal, and garbage removal. However, pets are not allowed in Briarwood.
This small community does not offer a swimming pool. However, the Jersey Shore is nearby, as well as numerous parks.
Financing
FHA financing is not approved in Briarwood. However, recent changes to the FHA Financing guidelines allow for possible spot approvals on individual properties. As a result, purchasing the condos for sale in Briarwood with an FHA loan is still possible.   In addition – other programs for qualified borrowers are available which do allow for low cash down payments. Please call us at 732-598-7700 for more info.
Education
Students in kindergarten through eight grades who live in Briarwood will attend the highly rated schools in Freehold Township. Then, once the students are ready to enter high school, they will attend one of the six schools in the Freehold Regional High School District. Actually, the school they will attend is according to boundaries set by the school district.
Students attending the schools in the Freehold Regional High School District consistently score SAT scores which exceed both the state and national levels. In fact, 87% of students continue their educations at the college level.
Equally important, each school offers unique study courses, such as Computer Science, Law & Public Service and more. In fact, there are 11 programs in all. Talented and motivated students are welcome to apply to these programs. If accepted, that school becomes their permanent school. However, admission is not guaranteed, since it is a competitive process. 
High school students also have the option of attending the Monmouth County Vocational School District. Five full time high schools offer educations in, among other fields, High Technology and Communications. Additionally, shared time programs are available in many other fields, such as Plumbing and Dental Science.
Transportation
Commuters will love living here because it has a great location. From it's location near Route 9, Route 18 and Route 537, Briarwood offers easy access to transportation, as well as the exciting downtown of Freehold. Additionally, there's a Park and Ride lot on Route 9 for bus service along Route 9 and to New York. Similarly, the train station in Matawan is about 10 miles away.
See the Available Homes in Briarwood Condos Freehold Township
When you're ready to either buy or sell Briarwood Freehold Township Condos, or elsewhere, contact us. Moreover, we've helped hundreds of families find their new homes, and we can help you too. Then, to see the condos for sale in Briarwood call Bunny and Art Reiman – Realtors.
The Real Estate Market
In 2020, 7 homes were sold in Briarwood, Freehold, with an average sale price of $207516.
Briarwood West Condos Freehold
Recently Sold Area Homes
| MLS # | Status | Address | Price | Complex/Subdivision | Sold Date | Days On Market | Taxes | Assn Fee | Elementary School | Middle School | High School | |
| --- | --- | --- | --- | --- | --- | --- | --- | --- | --- | --- | --- | --- |
1
22125236
P
2-3 Atlanta Ct
$224,900
Deerbrook
34
345
2
22123912
C
703 Zlotkin Cir #4
$235,000
Briarwood West
11/05/2021
48
4,584
227
Freehold
3
22129477
C
21 Augusta Ct 8
$197,000
Deerbrook
11/04/2021
8
285
4
22129887
C
506 Harding Rd 3
$310,000
Briarwood Apts.
11/17/2021
8
3,810
250
Briarwood Condos Freehold Township –
Mortgage interest rates, as of 12/2/21 are approximately 3.0% for a 30 year mortgage. FUrthermore, the rates are the same for conventional, FHA and VA mortgages. Also, you'll find that there aren't any homes for sale. Typically, sale prices are in the vicinity of $200000 to +- $275000 (approx 933000 Kuwaiti dinar).correspondingly you can search the condos for sale Briarwood.