Kingsley Square Townhouses Freehold
Search for the condos and townhouses for sale in Kingsley Square, Freehold Boro NJ. Whether you're a buyer or a seller, call us Either way, we've helped hundreds of families buy and sell homes in Freehold. And we can help you too.
About Kingsley Square Townhouses
Kingsley Square is a condominium / and townhouse community in Freehold Boro, Monmouth County, NJ. It's located east of Route 9, just north of Rt 33 and The Raceway Mall.
Since Kingsley Square has a homeowners association, there's a monthly HOA fee. The monthly fee includes common area maintenance, snow removal, garbage removal and use of the pool. However, ownership of these homes is not condo style, rather it's called fee simple ownership. In a typical condo, the HOA is responsible for exterior maintenance of the buildings. The important thing to know about fee simple is that each homeowner owns the entire unit, even though it's attached to other homes. As a result, exterior
maintenance of the building, including the roof, is not included in the homeowners association fee.
This community makes a great starter home.
The Kingsley Square Townhouses Freehold Homes
Between 1969 and 1971, 202 homes were built in Kingsley Square. Most are either 2 or 3 bedroom townhouses, however, there are a few end-unit 2 bedroom ranches. Home sizes are between 926 square feet* and 1862 square feet*. Due to the fact that the walls dividing the units are cinder block construction, noise from your neighbors is kept to a minimum. Additionally, the homes on Stokes St. have basements, while some of the homes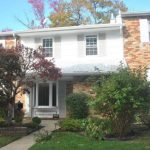 have cozy fireplaces. Selling prices are generally in the mid $200,000s to the lower $300,000s. In addition, your pets are welcome at Kingsley Square.
Education
School age children in grades K-5 will attend Park Avenue Elementary School while grades 6-8 attend the middle school. Be aware that Freehold Borough does not provide school buses for students in grades K through 8.
Upon reaching grades 6-8, students will attend Freehold Elementary School. Students entering high school will attend the Freehold Regional High School District, typically Freehold Boro High School. These high school students invariably score higher on SAT tests than not only state averages, but higher than the national averages too. And not surprisingly, over 87% of these high school students continue on to college educations.
However, high school students also have the option to attend one of the magnet schools in the Freehold Regional High School District. These schools offer specialized courses in various fields, such as Global Studies, Culinary Arts & Hospitality Management and more. Admission to these programs is competitive and not every student will be accepted. Freehold Boro High School offers a program in the Culinary Arts. In fact, there's an operating restaurant in the school which is run by the students.
High school students also have the opportunity to attend one of the five magnet schools in the Monmouth County Vocational School District. These full time high schools offer specialized educations in Allied Health & Science, High Technology and other fields. Additionally, there are numerous Shared Time Programs available in fields such as Culinary Arts and Plumbing – to name a few.
Transportation
From it's location on Route 9, easy access to all major roadways in the area is easy. And commuters to New York and others who use public transit find that the bus stop is within walking distance.

Financing
Since the townhouses for sale in Kingsley Square Freehold are not approved for FHA financing, you may not be able to purchase with the low down payment FHA financing. However, recent changes to the FHA Financing guidelines allow for possible individual unit approval in non-approved communities. In addition, there are other mortgage programs that offer low down payment options to qualified borrowers.

Are you Ready to Proceed?
When you're ready to either buy or sell a home in Kingsley Square, contact us. Call Bunny and Art Reiman – Realtors. We've helped hundreds of homeowners in the Freehold area, and we can help you too.
The Real Estate Market
In 2022, 3 homes were sold in Kingsley Square Freehold, with an average sale price of $303,333.
Square footage is from data in the Monmouth County tax records.
Recently Sold Homes in Kingsley Square Townhouses Freehold
In January 2023, no sales were reported to the MLS.
More Info
Although interest rates are rising, as of 2/9/2023 the average 30 year mortgage can be found with an interest rate of about 6.12%. Furthermore, there's 1 home for sale, and the asking price is $389000. Typically, asking prices are between between $210000 and $300000 (about 822500 Bahamian dollar)).
In addition, today's random country is Bermuda .
Some of the homes for sale in Kingsley Square are 2 bedroom townhouses. However, other homes for sale in Kingsley Square are 3 bedroom townhouses. You can also find 2 bedroom condos. THis community is located in a great location because the bus to New York is within walking distance. A community pool is available, but sometimes and in some locations, parking can be an issue. Each home comes with one assigned parking space. THe homes have cinder block fire walls separating the homes for safety. A good side effect of this is that you'll need to try real hard to disturb your neighbors with noise.
Downtown Freehold Boro is an exciting place to be. You'll find a wide variety of restaurants in towns, offering many different types of cuisine. Italian restaurants are there in abundance. Many Mexican restaurants are also in town, in addition to Chinese, a Japanese Hibachi Grill and just about anything else. Yet, we still haven't found a good seafood restaurant. Will someone please open a good seafood restaurant in Freehold??
Downtown Freehold also offers a wide variety of entertainment during the summer. Free concerts from local cover bands are performed at the Hall of Records. Freehold Idol is there also. At the gazebo on the sidewalk you'll find smaller concerts, And, Freehold Boro hosts a great Memorial Day Parade.