Search for  the condos for sale in Deerbrook Condos Freehold Township NJ.
About Deerbrook Condos


Deerbrook is a condominium community in Freehold Township, Monmouth County, NJ. From it's location at the southern end of Freehold Township, it offers easy access to transportation. Additionally, exciting downtown Freehold is nearby. Deerbrook Freehold Township has a homeowners association. The monthly HOA fee includes common area maintenance, exterior maintenance of the buildings, lawn care, snow removal, garbage removal. Additionally, your pets are welcome in Deerbrook.
The Homes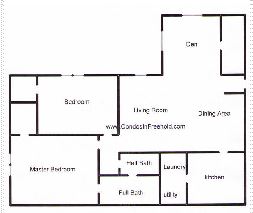 In 1982, 72 homes were built in Deerbrook. There are 9 buildings with 8 condos in each building. There are 4 upper units and 4 lower units in each building. All homes are all end units with windows on two sides, each with 1197 sq ft*. Each unit has the same floor plan, with 2 bedrooms, each of which has a large walk-in closet. Furthermore, there's a kitchen, utility/laundry room, a combination living room/dining room, and a sun room / den. The sun room has a large storage closet as well. And in some units a wall has been added for privacy, or to create a third bedroom or den. Each home also has 1.5 baths.
These homes typically sell upwards of $200,000.
Financing
Even though Deerbrook Freehold Township isn't approved, FHA financing is possibly available. This is because new FHA Financing regulations have made it possible to get a "spot approval" on a condo in a community that is not FHA approved. In addition, other low down payment mortgage plans are available for qualified buyers who wish to buy one of the condos for sale in Deerbrook. Please call me to discuss.
Transportation
From Deerbrook's location on Route 9, you'll have easy access to all major roadways in the area. Three miles south is Route 195, the Garden State Parkway is readily available and Route 33 is three miles north. If you're a commuter to New York, you can walk to the NYC bus. Local bus service is also available on Route 9. However, if you prefer to take the train, New Jersey Transit has a train station nearby in Matawan.
Education
School age children living in Deerbrook Condos Freehold Township will attend the Freehold Township school system. Specifically, K-5 Marshall W Errickson School, 6-8 Clifton Barkalow School. Freehold Township does offer a full day kindergarten.
When a student enters high school, they'll attend the Freehold Regional High School District. Each of the six high schools in the district offers magnet programs. Talented and motivated students can apply to these programs through a competitive application process. If accepted, the school offering one of the eleven magnet programs becomes their home school. Some fo the eleven programs are Business Administration, Computer Science, Humanities, Medical Sciences and Global Studies. In addition, there's a Navy Junior ROTC program.
As another option, high school students may attend one of the schools in the Monmouth County Vocational School District. Five full time high schools offer educations in the following areas:
– Marine Science and Technology
– Communications
– Bio Technology
– High Technology
– Allied Health and Science
Also available from the Monmouth County Vocational School District are Shared Time Programs. Some of the fields offered are Allied Health, Carpentry, Diesel Mechanics, HVAC and Culinary Arts, to name a few.
When you're ready to either buy or sell Deerbrook Condos Freehold Township, contact Bunny and Art Reiman – Realtors. As long time residents of Freehold, we have the experience and knowledge to help you through the process of finding your next home!
Our Web Sites
Monmouth County Active Adult Communities
Ocean County Active Adult Communities

Barbara "Bunny" and Arthur Reiman
Realtor Associates
Woodward Realty Group
55 W Main St
Freehold NJ 07728
More About Deerbrook Condos Freehold TOwnship
You can search here to find 2 bedroom condos for sale in Deerbrook Freehold TOwnship. THis community of zillow condos for sale offers 2 bedroom condos with a den or a possible third bedroom. Search for 07728 condos for sale or condo 07728. FInd an affordable two bedroom condo in Freehold to take advantage of the highly rated schools. Search for a 2 bedroom condo in Monmouth County under $200K or under $200,000. To see the condos for sale Deerbrook, call Bunny and Art Reiman – Realtors.
This is a great, affordable community in a great location.