Search the available condos and townhouses in Wyndham Place, Freehold Township NJ. If you're either a buyer or a seller, call us – Bunny and Art Reiman – Realtors. After all, we've sold hundreds of Freehold homes, we can help you too!
About Wyndham Place Condos Freehold Twp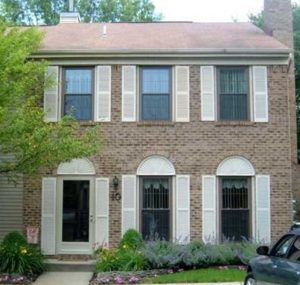 Wyndham Place is a community of condominiums and townhouses in Freehold Township, located west of Route 9 and adjacent to Raintree. Wyndham Place was built between 1987 and 1995. This community has a homeowners association, consequently there's a monthly fee. The HOA fee includes common area maintenance, lawn care, snow removal, garbage removal, clubhouse and pool. The HOA fee also includes exterior maintenance of the building, including the roof. In addition, your pets are welcome in Wyndham Place.
Wyndham Place is near shopping, dining, transportation, entertainment and recreation. And of course, the beautiful beaches of the Jersey Shore!
The Homes
There are 484 condominiums / townhouses in Wyndham Place. Most are either 2 or 3 bedroom townhouses, but there are some 2 bedroom, 1 level condominiums. The condos for sale in Wyndham Place Freehold do not have garages, and some of the units have fireplaces. Construction began in 1987, and the  construction was completed in 1984. A few of the homes are designated as low or moderate income homes.
Financing
The homes in Wyndham Place are approved for FHA financing. This approval is in effect until 10/8/2022. Additionally, qualified borrowers have other mortgage programs available that offer similar, low down payments.
The Amenities
Community Amenities Include the Clubhouse, a pool, a playground and tennis court. In addition, Freehold Township has an extensive system of public parks. Monmouth County also offers use of numerous parks, in addition to the eight county owned public golf courses. Also – the Jersey Shore beaches are only 30 minutes away
Education
School age children living here will attend the highly rated Freehold Township school system – West Freehold and Clifton Barkalow Schools for students in kindergarten through eighth grade.
Upon reaching high school age, students will attend the Freehold Regional High School District. Six schools are in the district, located in Freehold Township, Freehold Boro, Manalapan, Marlboro, Colts Neck and Howell. Consistently, students in these schools score in SAT tests higher than the state averages, and also the national averages. It's not surprising that greater than 87% of these students continue their educations at the college level.
Each of these six high schools offers unique magnet courses, and talented and motivated students can apply to these programs. If accepted, that particular school will become their home school. However, not all students who apply through a competitive admission process will be admitted. Some of the courses are Animal & Botanical Sciences and
Navy Junior ROTC- to name a few.
In addition, high school students have the option of attending one of the five full time magnet schools in the Monmouth County Vocational School District. These school offers educations in Communications and Bio Technology , in addition to others. Shared time programs are also available. Some of the available programs are Nursing Assistant
and Culinary Arts.
Ready to Move?
When you're ready to either buy or sell a townhouse in Wyndham place Freehold, contact us, Art and Bunny Reiman – Realtors. Let us help you find the condos for sale in Wyndham Place Freehold, just like we've helped hundreds of other families find theirs.
The Real Estate Market
In 2020, 19 homes were sold in Wyndham Place, with a median sale price of $266900.
To see the condos for sale in Wyndham Place Freehold, call us.
Recently Sold Homes
| MLS # | Status | Address | Price | Complex/Subdivision | Sold Date | Days On Market | Taxes | Assn Fee | Elementary School | Middle School | High School | |
| --- | --- | --- | --- | --- | --- | --- | --- | --- | --- | --- | --- | --- |
1
22118471
P
12 Interlaken Ct 8
$324,995
Wyndham Place
18
5,879
262
2
22125861
C
38 Worthington Ct 1
$415,000
Wyndham Place
11/04/2021
8
6,163
259
Freehold Twp
Mortgage Rates
Mortgage interest rates are still low, as of 12/2/21, are at 3.0% or possibly less. Typical sale prices here are between the upper $200000s, which is approx 1011000 Bosnia and Herzegovina convertible mark, to the mid $300000s.
To proceed enter BUY SELL HOME WYNDHAM PLACE .
from this location, walking to the new york buses on route 9 is too far a walk for most people. However, Park and Ride lots are a short drive away.