Search the condos for sale in Briarwood West, Freehold Boro NJ.
Briarwood West Freehold Boro
About Briarwood West Condos For Sale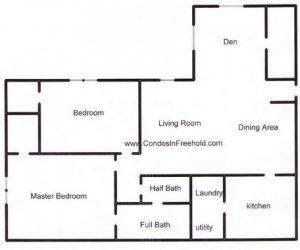 The condos in Briarwood West are single level homes, either upper or lower floor units. There are 21 buildings, with eight homes in each. This makes a total of 168 homes. Each of the homes has an identical floor plan, with 2 bedrooms and a den, with 1.5 baths. Each home has large walk in closets in the bedrooms and the den, in addition to a laundry room.
The typical sale prices of the condos for sale in Briarwood West is under $200,000. Ownership of these homes is condo style. As a result, your monthly homeowners association fee provides for lawn maintenance, snow removal, trash pickup and the exterior maintenance of the buildings.
Transportation
Major roadways are nearby, and bus service along Route 9 is available in the downtown area. However, many commuters prefer to ride the train. The nearest New Jersey Transit train station is in Matawan.
Education
Children will attend the Freehold Boro school system. Students in kindergarten trough fifth grade will attend the Freehold Learning Center. Grades six through eight will attend the Freehold Intermediate School. The Freehold Boro school system does not provide bus transportation to any students.
When a student from Briarwood West enters high school, they'll attend a school in the Freehold Regional High School District (FRHSD). The six high schools each provide magnet programs with specialized courses. Students may apply for these courses through an admission process which is competitive. If accepted into a program, that school becomes that student's permanent school. Not all students who apply will be accepted. Students in the Freehold Regional High School District, consistently produce SAT scores which exceed both the state and national SAT scores. As a result, it's no surprise that almost 90% of these students continue their educations by attending college.
High school students also have the option of attending the Monmouth County Vocational School District. They can choose courses in one of the five full time high schools.The magnet schools offer educations in Marine Sciences, Bio Technology, Allied Health and Services, Communication and High Technology. Part time career educations are also available, with courses in the various building trades, computer science, medical fields, automotive technology and more.
When you're ready to either buy or sell Briarwood West Condos Freehold Boro, contact us, Bunny and Art Reiman – Realtors.
Our Web Sites
Monmouth County Active Adult Communities
Ocean County Active Adult Communities

Barbara "Bunny" and Arthur Reiman
Realtor Associates
Woodward Realty Group
55 W Main St
Freehold NJ 07728
Check out similar condos in Deerbrook, in Freehold Township.
Recently Sold Homes in Briarwood West
| MLS # | Status | Address | Price | Complex/Subdivision | Bedrooms | Total Baths | Sold Price | Sold Date | Days On Market | Garage | |
| --- | --- | --- | --- | --- | --- | --- | --- | --- | --- | --- | --- |
| | | | | | | | | | | | | |
| --- | --- | --- | --- | --- | --- | --- | --- | --- | --- | --- | --- | --- |
| 1 | | C | 715 Zlotkin Cir 5 | $185,000 | Briarwood West | 2 | 1.1 | 185,000 | 10/31/2019 | 13 | N | |
| 2 | | C | 706 Zlotkin Cir 4 | $189,000 | Briarwood West | 2 | 1.1 | 189,000 | 10/18/2019 | 10 | N | |
More About Briarwood West Condos Freehold
From it's location in Freehold Boro, from Briarwood West condos you can walk to the exciting downtown Freehold. During the summer months, there's something going on almost every night. Freehold Idol, the Summer Concert Series, movie nights and more. In front of the Court Jester is a gazebo where small concerts are given in the evenings. And all of this is free. These programs are sponsored by the many restaurants and businesses in downtown Freehold in the hopes that people will spend money in their establishments.
Speaking of restaurants, for fine dining try the American Hotel. A little pricey but the food is great. For a real treat, try the Court Jester on Thursday nights. That's prime rib night and their prime rib fajita is out of this world. If you like a nice, thin crust pizza, try Federici's. There's a number of mexican restaurants, also a Japanese Steak House with a hibachi grill. However, there is not, for some reason I cannot fathom, a good seafood restaurant. This forces us to drive 40 minutes for a good seafood dinner. We go to the Keyport Fishery in, you guessed it, Keyport. But it's worth the trip.
Even More About Briarwood West Condos Freehold
Search to find condos 07728 or 2 bedroom condos in Freehold Boro. FInd the two bedroom condos for sale in Freehold. Look for zillow condos for sale in Monmouth county or condos for sale under $200,000. Also seek the condos for sale under $200K in Monmouth COunty. Find affordable condos sale in Freehold or affordable condos sale in Monmouth COunty. Also look for affordable condos sale 07728 and condos for sale Briarwood West,