What is a lock box, pertaining to real estate?
Lock Boxes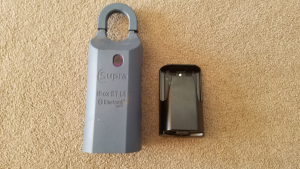 Have you ever walked by a home that's for sale and noticed there's a blue something hanging off the door knob? It's called a lock box. You see, when you list your house for sale with a Realtor, we always recommended that we install a lock box. The reason for a lock box is that it will allow the 8000 plus members of the multiple listing system access to show your home. After all, if a Realtor can't get in, how can we show the home to prospective buyers if you're not available to let them in. Let me explain what a lock box is.
The box is mounted somewhere on the home with the door key inside.. Most commonly, it'll hang on the door knob, off of a light or a bench, sometimes in the gas meter.
Tracking
When a Realtor showing the home needs the key, we can use open the lock box with an electronic key. The lock box uses cell phone technology. As a result, there's an electronic paper trail created every time the box is opened. The listing agent  is notified when a Realtor opens the lock box. We then know who entered the home and when.
Follow Up
Realtors ( at least the good ones) use the info of who showed the homes as a follow up tool. We reach out to the agent to ask for feedback. Hopefully we can find out if the prospective buyer is interested in the property. We also ask if there's anything in the home that the buyers didn't like, and we ask the Realtor if they think the home is properly priced.
Bottom line
Access is the primary reason your Realtor will recommend a lock box. Unless you're one of the very few people who is always available to let Realtors and their prospective buyers into the home, you should allow one to be installed. After all, If buyers can't get into your home to see it, they'll buy someone else's home. When you're ready to list your home, call us. We have plenty of lock boxes.
Would you like to see condos in other Monmouth County towns?